On specialized furniture magazines, in the section dedicated exclusively to carpets, it is very common to find  that:
I remembre that my notes are those written in blue. Fabio Morandi – Moranditappeti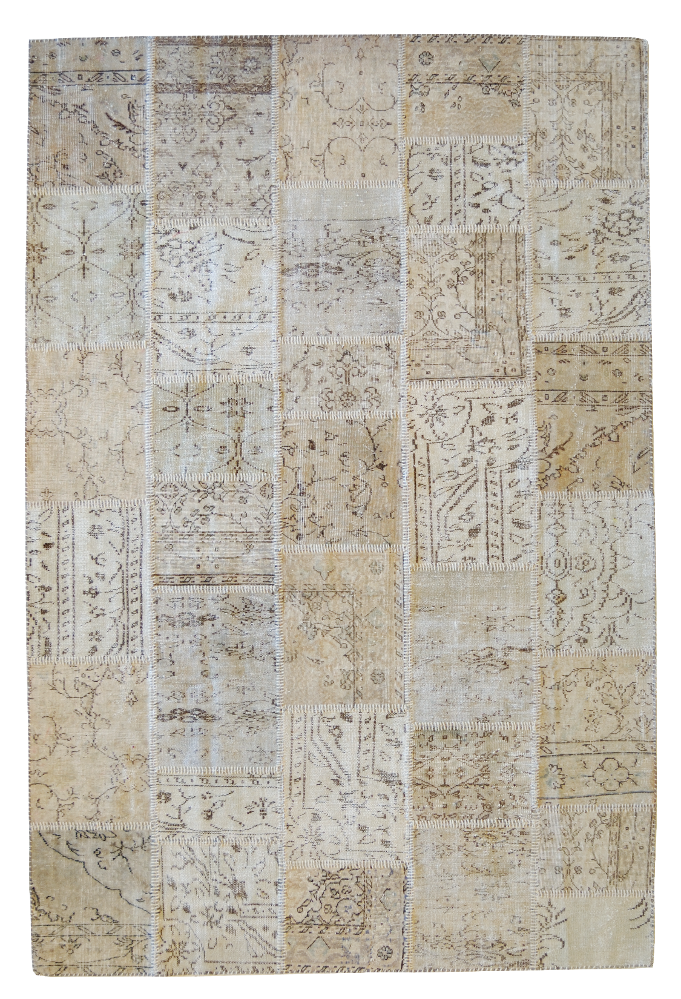 "It is normal to fall in love with more drawings and types, especially with regard to oriental carpets, but you are not obliged to choose only one carpet to furnish your living room, dining room or bedroom: with patchwork carpets you can have all the finest carpets preferred in a single complement of furnishing. Whether it's monochromatic or multicolored, the patchwork carpets of dreams will fill the house of fantasy and happiness without sacrificing the class and the tradition"
It is true that they are an excellent low-cost solution, is true also that you can get it out with the colors, but the style is unique, certainly one can not expect that a composition encloses all the stylistic components of each single element that compose it.
What is Patchwork
In the best blogs on carpets, that written about patchwork carpets in the specific, it turns out that:
"The "patchwork" technique mines select parts of different carpets or fabrics and combine them together into a single element, as a collage. Generally rectangular or square, the parts of the different carpets combined together are in excellent condition and can come from similar or totally different carpets, creating a puzzle of contrasts (both in terms of colors and designs). Although the patchwork is often only linked to classic American blankets, the technique might surprise you for its ancient story: the first patchwork carpet findings, dating to 500 years ago, come from Turkey! The most famous patchwork made in this area comes from Anatolia and kilim fabric, without a flees. "
We do not put together the sacred with the profane some clarifications are needed.
In ancient times, the nomadic people who weighed kilim, not having the ability to carry a big frame so they intertwined two or more pieces that were then sewn together to form a unique, gorgeous piece. Current patchwork, however, are real Scraps, remains, or scraps sewn together; Can be sewn in the state in which they are or discolored and recoloured, shaved with old effect or let with the whole flees, will be Ptchwork of kilim and p. Of carpets or patchwork reloaded.
The Materials used for Patchwork Carpets
As for the materials used for knotting the patchwork carpets, it turns out that:
"Authentic modern patchwork carpets are made by hand and are 100% knotted using the best quality wool (since the carpet pieces used for its creation are also wool) and colored with vegetable dyes, according to ancient recipes of millennia. Wool and vegetable dyes give waterproofness and non-flammability of fabrics, so if kept in good condition with proper cleaning, the rug will keep its beauty for a long time (justifying the cost)".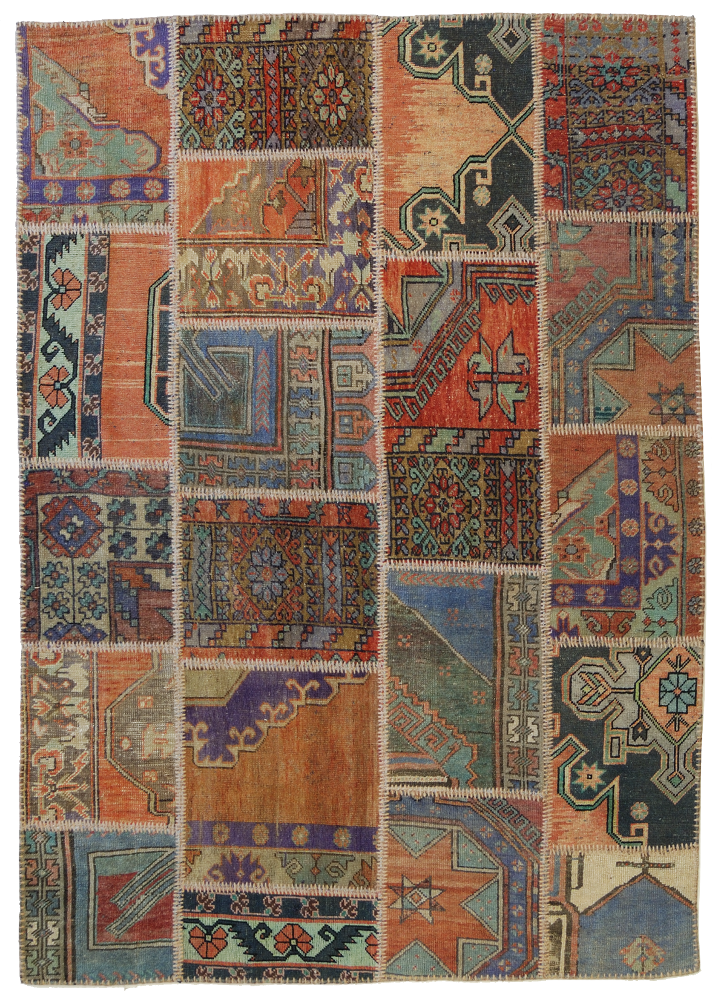 Different Types of Patchwork
You come to the conclusion, serfing on Internet, that many think that
"The patchwork carpet can be of one type. However, there are 2 main categories of modern patchwork:
Monochromatic: monochromatic patchwork carpets are made up of fragments of carpets of the same color (for exemple blue) but of different shades and styles;
Multicolored: Patchwork carpets of this category are characterized by different colors and styles.
Contemporary monochrome patchwork carpets are ideal for minimalist and contemporary furnishings, particularly for dining rooms and livingroom in gray and white, complementing the sophisticated style of the environment.
Modern multicolored patchwork, however, because of their playful nature and their imaginative soul, are perfect for children's play rooms or pool rooms, creating an atmosphere of warmth and happiness. "
The monochrome or multicolored distinction is incorrect.
In regard of reloaded patches they are recolorized, generally all the pieces are recoloured of the same color. We rarely find patchwork reloaded with different colour (harlequin effect) while much more beautiful are the reloaded Patchwork recolored with the same color but with different shades. Or patchwork not recoloured so with the original colors. We also distinguish the kilim P. or the P of the carpet or the P. of fabric ecc etc.